Avengers Smash Box Office Records & 9 Other News Items You Can Learn From
Based on the feedback, it looks like you guys really enjoyed our new Internet News column, so we're doing it again!
This week has been full of interesting news and shakeups from The Avengers having a killer opening weekend to Facebook announcing it's App Center.
There's a ton to learn from here, so let's just jump right in.
Marvel's Avengers Shatter Box Office Records
News Article In Question: Mtv.com
The highly anticipated release of The Avengers brought in an estimated $200 Million in it's opening weekend in the U.S.
This breaks the record previously held by Harry Potter and The Deathly Hallows – Part 2 which made $169.2 Million last year.
Marvel's landmark comic book flick — which unites Captain America (Chris Evans), Iron Man (Robert Downey Jr.), Thor (Chris Hemsworth), Hulk (Mark Ruffalo), Black Widow (Scarlett Johansson) and Hawkeye (Jeremy Renner) against an otherworldly threat — became the fastest movie ever to reach $100 million, $150 million and $200 million at the box office. "The Avengers" also enjoyed the highest per-theater average ever for a nationwide release with $46,057 per theater.
Why This Is Important To You:
Well, if you're a big superhero movie nerd like me, you'll just be happy to see that the good guys win again.
The main lesson here is one of anticipation building, and successful JVing.
Since Marvel opened their own studio back in 2008 they have been building the anticipation for this movie for nearly 4 years.
The primary characters in this film have all headlined in their own successful films, and the cast is chock full of award winners and nominees. And while those movies are all good on their own merit, they've only acted as a smaller part of a larger strategy.
The success of this movie goes to show with the proper balance of planning and skillful execution, you can achieve great things.
Facebook Announces Opening "App Center" In A Few Weeks
Resource In Question: Information Week
According to InformationWeek.com, Facebook plans to open it's own App store "to help make Facebook apps, Web apps, and mobile apps easier to find."
The App Center will not only feature the likes of FarmVille, CityVille, Mafia Wars, and the thousands of other apps you want to hurt your friends for asking you to play, but also paid apps.
Facebook also mentions they will proudly feature well designed "engaging" apps on the App Center's main page, which is something that iTunes has not offered so freely.
Why This Is Important To You: 
If you're an app developer, this is a great time to get in on the ground floor for this new App Repository.
No Facebook apps aren't anything new, but having the chance at being showcased in front of 900 million people worldwide is pretty promising. A good traffic driving strategy should get you there.
If you're not an app developer, this (and other news you'll see in a second) signals the beginning of Social Media 3.0 where new media formats become a bigger part of our online experience.
Now for me, this is just wishful thinking, but what if this is just a stepping stone to Facebook renting movies (ala Itunes). With it's existing Skype integration, it's possible that we could start watching movies & tv with friends without ever leaving the social network.
Google + Rolls Out "Hangouts – On Air"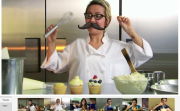 Resource In Question: PC World
By now, many of us are familiar with the ever popular Google Hangouts, which let's you chat, draw, edit docs and a number of other things all while live streaming your webcam with up to 9 other friends.
The "On Air" portion of Hangouts, allows you to broadcast that hangout to your Google+ stream, Youtube account, and embed it on your website.
"On Air" will also record and upload the hangout to your Youtube account automatically.
Why This Is Important To You:
This represents a much deeper level of engagement than previously possible on a social network.
I want to encourage you to look into how you can develop some sort of programming that can take advantage of this new technology.
If you cook, start cooking and answering questions On Air. If you're friends with other people in your field, start a friendly public debate show On Air. If you're in a band, get each of your members to play over webcam while streaming to your fans, then submit it to Mashable, say first ever Hangout Band Practice, and become a viral sensation.
Really, find any way you can to use this, because it truly is the future of social networking.
Facebook Introduces File Sharing
News Source In Question: Mashable
As of Thursday, File sharing is going to be rolled out across Facebook "Groups" platform.
This is likely a response to Google's Drive roll out from two weeks ago, but it doesn't really matter, as it has been one of the most requested features since the new groups were introduced.
Users can upload most file types up to 25MB — the same file size limit as Gmail. The exceptions: music files (sorry, old-school Napster fans) and executable (.exe) files (sorry, hackers). But e-books, comics, music videos and other small movies are fair game.
Why This Is Important To You:
Facebook groups are great for building customer loyalty. By leveraging the ability to share multiple file types, you'll be able to offer "group exclusive" bonuses in a very easy way.
For example, you could start your own membership site within Facebook, and upload .pdf worksheets. If your community is more visually minded, you could host video files, and encourage your group members to remix the work.
Or, if you're using groups for more work oriented type projects, you can have your group have one central location for all relevant files (instead of having to email everything constantly)
Twitter May Be Working on Email Expansion
News Article In Question: Mashable
Back in January, Twitter acquired Summify, a service that will email you top stories based on what your friends are sharing.
Yesterday, they also acquired RestEngine, a company that basically hyper segments your email lists based on Social Graph Data.
If 1+1=2 than it could be that Twitter is looking to put together a "tweets you may have missed" email platform to drive more engagement back into the site, and making itself even more valuable as a content distribution network.
Why This Is Important To You:
Online marketers have been saying for quite some time that your primary focus needs to be on email list building.
If Twitter truly is building an email platform that will highlight users best tweets, they're going to do the hard work when it comes to getting your content in front of people who very well may have been interested, they just weren't on at the exact hyper second you decided to tweet.
Facebook Tests "Highlight"
News Article In Question: Techcrunch
Facebook has recently started testing a feature called Highlight which will allow users, (not pages, or apps) to pay a nominal fee for "pinned" placement in the News Feed. The reason, most people only see about 12% of the total activity going on within Facebook.
This test comes as a result of trying to find more ways to monetize the platform before the company goes public.
News sources wonder if the social network is "playing with fire" with highlight as it runs a very big risk of being abused by your attention starved "friends" and unsaavy business owners.
Why This Is Important To You:
If you (or someone you know) is a part of this test group, there is the potential for "Feedjacking".
If you're one of the people who does get to test out this new feature, I would just like to caution you to make sure what you're promoting is not entirely self serving, and genuinely deserves to be seen by more of your friends. Something like "ZOMG CHECK OUT MY NEW POST" probably is not going to go over well with your friends.
The Best And Worst Times To Share On Facebook, Twitter
News Article In Question: Mashable
Want your link to get the most traction on Twitter? Post it on a Monday between 1:00 p.m. and 3:00 p.m. ET.
Long story short, popular link shortner bit.ly has released a report that shares their data on the best (and worst) times to share links on the worlds most popular social networks.
Why This Is Important To You:
Do I really need to explain?
Bing's Redesign "Declutters" Search And Puts Social Context in the Side Bar
News Article In Question: Techcrunch
Last week we reported on Bing doing a major overhaul on their search interface in response to the public dissatisfaction of Google's heavy (and annoying) integration of Google+ into their search results.
This week, they're starting to roll out an even cleaner, more robust search result page by displaying pure algorythmic results on the left, contextual results in the middle, and social recommendations on the right.
Bing is attempting (and doing a good job of) showing that it's focus on user experience is more important than pushing it's social network in your face.
If Bing is able to keep this up, it's possible they can slowly pick at Google's market share, and become a real contender in search. (Also, they have a rewards program for using their search engine, which is pretty cool)
Why This Is Important To You:
Two reasons:
Reason 1: Microsoft is really capitalizing on Google's falters, and if more people start switching to Bing as their default search engine (I have) you can have an early mover advantage by re-optimizing for Bing (pure crazy talk I know)
While there are no definitive guides out there yet, many of the factors that seem to place more focus in a round about way the way a page might be viewed by users.
Reason 2: Microsoft invests in Facebook. Facebook already has some Bing integration. Facebook has been working on a social search engine for at least two months. *ahem* and the team is being lead by a former Google engineer…
If Bing's redesign a part of a much larger master stroke that the public isn't aware of yet, we're about to witness the rise of semantic search, which means the more "likable" your content is, the better off you're going to be.
Google Quietly Launches Google Offers in U.S
News Article In Question: Google Blog
Android Users in the U.S will now be able to enjoy Groupon-esque offers integrated directly into Google Maps on their phones.
Some Google Offers can be purchased and saved for later while others are immediately available for free. With free Google Offers, press "Use now" to redeem instantly or "Save for later" for future use. You can also opt-in to receive notifications in the app when there are offers near you.
Why This Is Important To You:
If you're a business owner in a brick and mortar location, or you have a client that is, you will want to sign up for this immediately.
This tech mash up is the perfect intersection of user intent and incentive. Where most people are using Google Maps to find a place like a local shop, or restaurant, giving them further incentive to want to check you out is perfect for instant loyalty.
In our own businesses, we should always be looking for ways to engineer a little pleasant surprise for our would be customers.
How Eli Broad Works 24/7 And Still Gets 8 Hours of Sleep Every Night

News Article In Question: Fast Company
Eli Broad, a philanthropist and founder of Kaufman and Broad, a Fortune 500 home building company, shares his thoughts on how he's been able to prioritize his time and enjoy life as a business and family man.
Thinking that everything is important, that every request from other people has to be answered with a yes, will make 24 hours seem inadequate. In fact, there are very few things that you truly have to do. This category should include only the things that make you run–the things you couldn't live or work without. Nothing else comes close to being crucial.
Why This Is Important To You:
If you're like me (who's finishing this article up at 4:58 am), time is always eluding you. Even putting in 14-16-18 hour days sometimes isn't enough.
This is not a good way to live, and while the pursuit of making money online is cool, so is working only on the important things that move you towards your goals, and ultimately, being able to spend time doing what it is that you love (like family).
This wraps up this week's internet news.
Was there a story that stood out to you this week? Something here you'd like to discuss further?
Leave your thoughts in the comments below!
Have a great weekend.
"Do Not Write Another Blog Post Until You Watch This Free Video..."
Watch this free video to learn...
How I got over 10,000,000 people to visit my websites.
The types of blog post that got me all that traffic.
How to get someone else to do it for you!
Where should I send your video?
Please enter your email address